Your 101 Guide On How To Clean & Care Your Uggs
Posted by JASON SU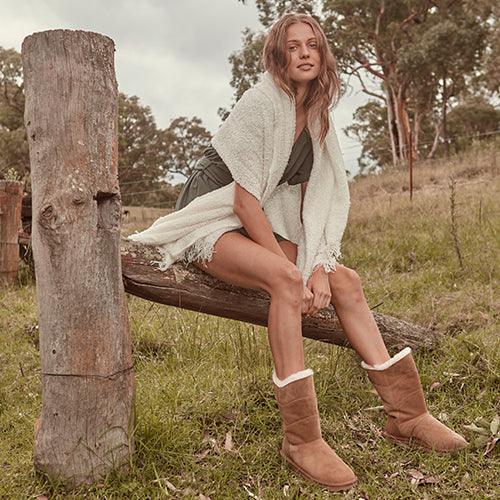 Winter this year is already in full swing, complete with snowfall and icy temperatures across Australia. This might just be the season where you'll never want to take off your ugg boots. And with increased wear comes more  likelihood of dirt and stains.
We've developed your 101 guide on how to clean & care your ugg boots with some basic tips to get you started below. With the right care and ongoing maintenance, investing in a pair of quality Uggs will outlast this winter for years to come.
#1. What to do first with a new pair of ugg boots
We believe prevention is the best strategy against damage when you receive a fresh pair of Uggs.
Firstly, you'll want to waterproof the exterior sheepskin or suede with a Water and Oil Repellent spray. The UGG Shop has developed an Ugg Boot Clean & Care Kit  to help with this process, complete with UGG Boot Water & Oil Repellent Foam, UGG Boot Shampoo and a special open-cell foam sponge.
Step 1: Lightly spray the foam over the boot exterior in layers, allowing each to dry before applying the next coat.
Step 2: After each wear, use the sponge to gently brush off any dust and dirt.
What about the interior? It's best to avoid wearing socks with your ugg boots. This is because socks tend to make our feet sweat which causes bacteria growth inside your boots, leading to bad odours. Let the natural fibres of ugg boots do the work. If bare feet are not your thing, make sure to wear moisture-absorbing socks such as the Tarramarra Easton Men's Bamboo Socks or the Tarramarra Connor Cotton Socks. 
#2.How to clean liquid stains (such as oil, water, mud etc.)
Imagine your ugg boots as sponges. As soon as liquid touches them, it's absorbed into the sheepskin, usually resulting in dark patches or discolouration. So it's important to follow the correct method of cleaning liquid stains to keep your ugg boots looking spotless.
Step 1: Using white chalk, baby powder or corn starch, gently rub the stained area and leave for at least 24 hours.
Step 2: Use a suede brush or the open-cell foam sponge from the Ugg Boot Clean & Care Kit to gently brush off the residue. Repeat this process until the stains disappear. For more stubborn stains, you can extremely lightly buff off the stain using a very fine sandpaper.
#3.How to clean the exterior of ugg boots
Once you've treated any stained areas, you may want to clean the whole boot to even out any patchy areas.
Step 1: Brush your boots in a single direction (from top to bottom) using the Suede 4 Way Care Brush to soften the nap and remove any loose dirt.
Step 2: Use a clean, damp sponge or cloth to evenly moisten the whole surface of the boot. Wipe away any mud that may be present on the soles.
Step 3: Apply the Ugg Boot Shampoo Cleaner from the Ugg Boot Clean & Care Kit. Gently rub the exterior from the top down in a circular motion, regularly rinsing your sponge as you go.
Step 4: Wipe down the entire boot with a clean, damp sponge or cloth, and leave boots to completely dry for at least 24 hours, away from direct sunlight or heat.
Step 5: Take the suede brush again and brush the nap in a single direction to restore your boots natural appearance.
Step 6: Spray the UGG Boot Water & Oil Repellent from the Ugg Boot Clean & Care Kit  to add a secure coating layer that prevents your ugg boots from getting stains and mould.
#4. How to clean the interior of ugg boots  
We also recommend cleaning the interior on a regular basis. You may need to do a simple deodoriser, or a deep clean to remove dirt and bacteria. 
Deodorise
Step 1: Sprinkle the insides of your boots with a little baking soda, give the boot a shake, and leave overnight.
Step 2: Tip out any powder and gently vacuum any excess left inside.
Deep Clean
Step 1: Take a damp cloth or sponge and gently wipe the inside of your boot. Make sure to only use plain water as some detergents and soaps can strip the naturally derived lanolin found in sheepskin wool.
Step 2: Leave boots to completely dry for at least 24 hours, away from direct sunlight or heat.
#5. How to clean the fluffy wool top
If your ugg boots feature a fluffy cuff, such like the Australian Shepherd® Donna,Australian Shepherd® Candice and Ugg toggle collection from The UGG Shop, you may find debris gets caught. If this happens, you can use a wide-tooth comb to lightly brush out the wool. Make sure to hold the boots upside down to avoid the debris falling inside. 
If you need to wipe away any dirt, follow the same steps as the Interior Deep Clean. Once dry, comb the wool to restore the boots back to its original fluffiness.
Collection 2019
Sale 70% Off
Title for image